Our work at Porvenir Design takes us all around Costa Rica. Sometimes that work involves design and planning, other times we are in charge of all aspects of project implementation, and in others our focus is on a facilitated goal setting and decision making process. In an effort to better highlight and share our small contributions to the greater permaculture community, we are writing a series of case studies, showing how permaculture design can be used to help projects better achieve their goals.
Brave Earth Community
Brave Earth or Tierra Valiente is a young shareholder based community located on a 35 hectare property in the La Fortuna area of Costa Rica. The project was founded in 2016 by a large group of friends who were connected through their activism and the larger healing arts and medicinal plant communities.
The project is squarely in the early experimental phase of development. When the entire project's vision is complete, it will feature a number of different entities:
The Brave Earth community: Comprised of 40 shareholders (individuals, couples and families can all co-own shares), each with their own living structure, surrounded by communal infrastructure and land. Currently half of the shares have been sold. This aspect of the project is expected to begin construction in 2021.

The Brave Earth Healing Arts and Retreat Center: Located on 1.2 hectares of land in the heart of the property, the retreat center, highlighted in this case study, is the current focus of the project's resources.

Tero Kuraga Regenerative Farm: The farm entity, is a partnership of four contiguous properties and their owners. Approximately 5 hectares of Brave Earth land will be part of this project, whose goal is to grow food for the retreat center, community and a neighboring eco-lodge, Finca Luna Nueva. This project officially began in the second half of 2019.
Brave Earth's stated mission is to "create a living laboratory in service to regenerative living and co-evolution with nature."
Porvenir Design's Role
We were hired in December 2018 to create a concept master plan for incorporating food production into the existing concept plan created by Blue Green Planning. The initial plan by BGP, as seen below, primarily lays out the siting for infrastructure, access, and utilities, and while the designers had a vision for the landscape, they were seeking our expertise to get them closer to their goals.
We were quite familiar with the property and region through our work preparing for the larger Tero Kuraga farm project, but began with a basic site and sector analysis while we reviewed the ongoing construction process to better understand how the productive landscape could fit into a construction site.
We then facilitated a goal setting session with the majority of the community shareholders while they were holding their annual shareholder retreat. From this we gathered the basic information (goals, resources, values, and such) needed to develop a detailed species list and zone out the site based on different land uses, such as kitchen garden or privacy hedges.
The implementation over the last few months has focused on the areas where construction is finished, including the edible landscaping around a few of the guest structures, the primary kitchen garden, the construction of a tree nursery and greenhouse, and a number of privacy barriers.
The entire process was designed to empower the community to make decisions on their own, to do the research of plant selection, and the majority of the actual physical labor of moving stones, soil, and plants. We often provide the basic structure and building blocks of a system, but rely on the client to put it all together before we provide final feedback. Our goal is for this community to be the ones taking full ownership of every plant placed into the ground.
Site Analysis
The following is the completed site and sector analysis specifically for the Healing Arts and Retreat Center
Location: San Isidro de Peñas Blancas, Alajuela Province, Costa Rica

Climate: Wet Tropics

Watershed: San Carlos River Watershed, Penas-Blancas-Chachagua Tributaries

Mountain Range:Tilaran Cordillero on the Carribean Slope

Region: Immediate communities are predominantly small farming towns where yuca, sugar cane, cattle, papaya are all commonly grown. 30 minutes from La Fortuna, a predominant Costa Rican tourist destination, 2 hours from the international airport.

Forest: Wet Lowland Atlantic Forest

Rainfall: Around 4000mm of rainfall per year

Seasonality: Historically rainfall is nearly year round with a short dry season between February and May. Typically only one of these months receives less than 100 mm of rain.

Temperature: 25-30°C (77–86°F); minimal change throughout the year

Elevation: 350 meters

Topography: The site sites along a gently sloped East to West ridge, with steep valleys at the North and South borders that descend into seasonal streams.

Vegetation: Secondary forest forms the edge of the site on the East, North, and West borders. The South border is overgrown cattle pasture. Scattered overstory trees of tabacon (Cespedesia spathulata), laurel (Cordia alliodora) and tostada (XX) shade the construction site. There are a dozen or so old mangos, coconuts, and citrus trees on the site.

Day Length: 12 ½ hours of day-length, approximately ½ hour seasonal fluctuation

Time Zone: GMT -6
Invisible Structures
During our initial conversations with shareholders they expressed that the goal of the site was to grow food for the retreat center kitchen in order to be self sufficient. In our facilitated goal setting process we:
Brainstormed goals, values and preferences for the site

Completed a basic site analysis: sun/shade, water, soil, flow of people, etc

Analyzed existing and future neighboring projects and community resources

Explored in-depth invisible structures such as public/private interactions, decision making, labor, and collaboration between the various Brave Earth entities
We drew a number of conclusions, opportunities and constraints from this process, some of the more important ones were as follows:
The site has a minimal amount of sunny, open, farm-able land

There are concerns about mixing farm labor with guest retreat center space (conflict of public and private space)

Some of the type of food the kitchen desired would be challenging to grow in this climate (temperate-climate vegetables)

Tero Kuraga will be a neighboring entity focused completely on growing food for the retreat center.

As of now, no one in the Brave Earth community has the experience or is able to dedicate themselves as a full time site farmer.

Finca Luna Nueva has a world class plant collection on their farm, specifically their Sacred Seed Garden.

Many of the public retreats will be focused on working with specific plants and healing strategies
Given this information we made the decision to focus the sites landscaping goals on the following:
Production of medicinal plants for workshops/retreats, the community apothecary, and for sale in the retreat center store.

Grow as much food as possible for the retreat center kitchen, under the following criteria

Low maintenance growing through species and technique choices

Minimal processing requirements for kitchen use

Minimal disturbance of guest experience

Aesthetic of walking in a tropical food forest

Enhancement of privacy of guest structures
Notice the shift from food self sufficiency to medicinal plant production and low maintenance farming. Because of this design process, the community will be far more successful in achieving the latter goals than the former..
Physical Structures
The below design highlights key parts of the concept plan that is currently being implemented by the Brave Earth team with support from Porvenir Design.
Plant Guilds: The concept master plan shows the principal agricultural guilds, they are broken down as follows:
Kitchen Garden: The 150 square meter garden will feature perennial greens and vegetables, culinary herbs, and medicinal herbs for teas. The series of photos below shows the basic process of constructing the garden beds. As they beds were dug out, rotting wood was placed into the bottom of the beds, creating a small hugulkulture for each growing bed.

Food Forest: This refers to the majority of the planting space around all the infrastructure. This is the catch all for the multistory polyculture featuring coconut, jackfruit, breadfruit, cacao, small fruiting shrubs, medicinal herbs, bananas, and all other species. It will blend into the Path Edge guild and the Privacy Hedge guild. It will feel slightly wild, super diverse, and packed with useful plants.

Path Edge: The Path Edges will highlight key out-of-hand species that guests can snack on while walking between structures.

Field Crops: These fields will focus on the production of staple crops such as yuca, pineapple, taro, and sweet potato. These spaces may transition into food forests over time.

Medicinal Plant Sunny Fields: These two large flat areas will guide guests into the entrance of the Moloca. The bulk of the most important medicinal plants, that are expected to be harvested in quantities will be grown here.

Privacy Hedge: The privacy hedges will share similar plant patterns to the food forest but with select species that can be maintained as significant visual barriers and whose yield/needs don't interfere with guest privacy.

Medicinal Plant Shady Fields: The shady area surrounding the sweat lodge and A-frames will be dedicated to growing shade loving medicinal plants.
Water: The project is tied into the community public water supply. Composting toilets will be the sole treatment for human waste and simple greywater banana circles will treat shower and (non-kitchen) sink greywater.
We have recommended rainwater catchment off of the Moloca, as a primary backup source of water. This overflow will feed the natural swimming pool. The plan for the pool is to feed it from a nearby stream, after receiving a government concession, with the overflow going back into the stream after running through a series of wetland cleaning basins.
Runoff on the site will be dealt with through small drainage channels running along paths and general microtopography adjustments to move the water slowly away from the built environment to the vegetated landscape.
Access: The site features a classic hierarchy of paths, highlighted by a narrow loop trail that will be accessible by electric golf cart to move guests' luggage to their living space. All internal trails will be for foot traffic.
Soil: The property has good soils for cultivating perennial tree crops. Soil amendments will be made primarily through chop and drop biomass species, keeping the ground covered with living plant material, the selective use of purchased compost and rock dusts, and the application of Mountain Microorganisms to encourage native beneficial fungal colonization.
Infrastructure: The necessary agricultural infrastructure is relatively simple for the site and began with the construction of a tree nursery, covered growing space and covered work area located by the current living quarters of the principle site managers. In the future, we expect the Healing Arts Retreat Center to feature a small greenhouse for growing more sensitive but important medicinal plants and vegetables.
As seen in the pictures below the retreat center is populated by a number of impressive bamboo, earthen and air-crete structures for guest lodging and dining experiences. All of the planting work is designed to emphasize and highlight these unique structures.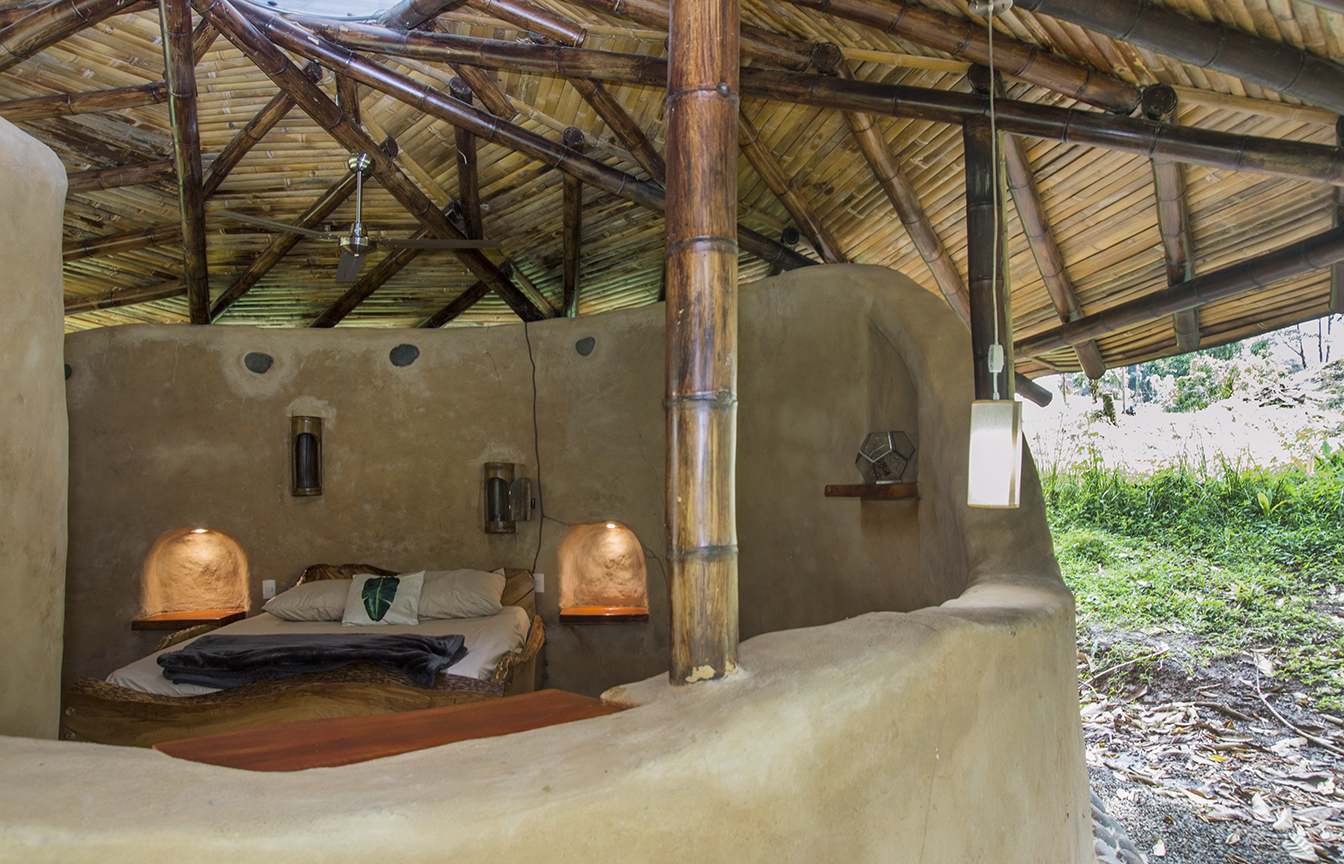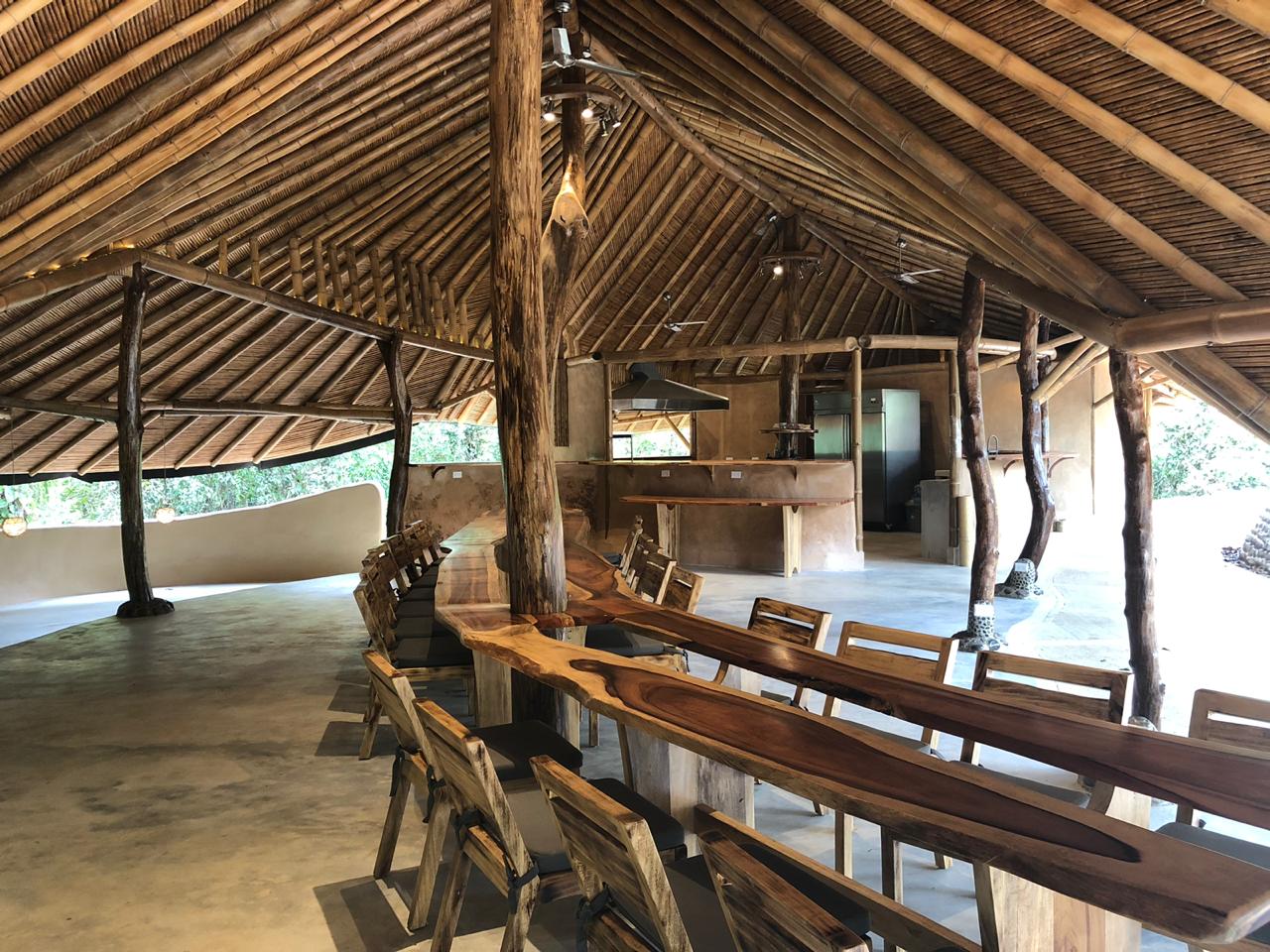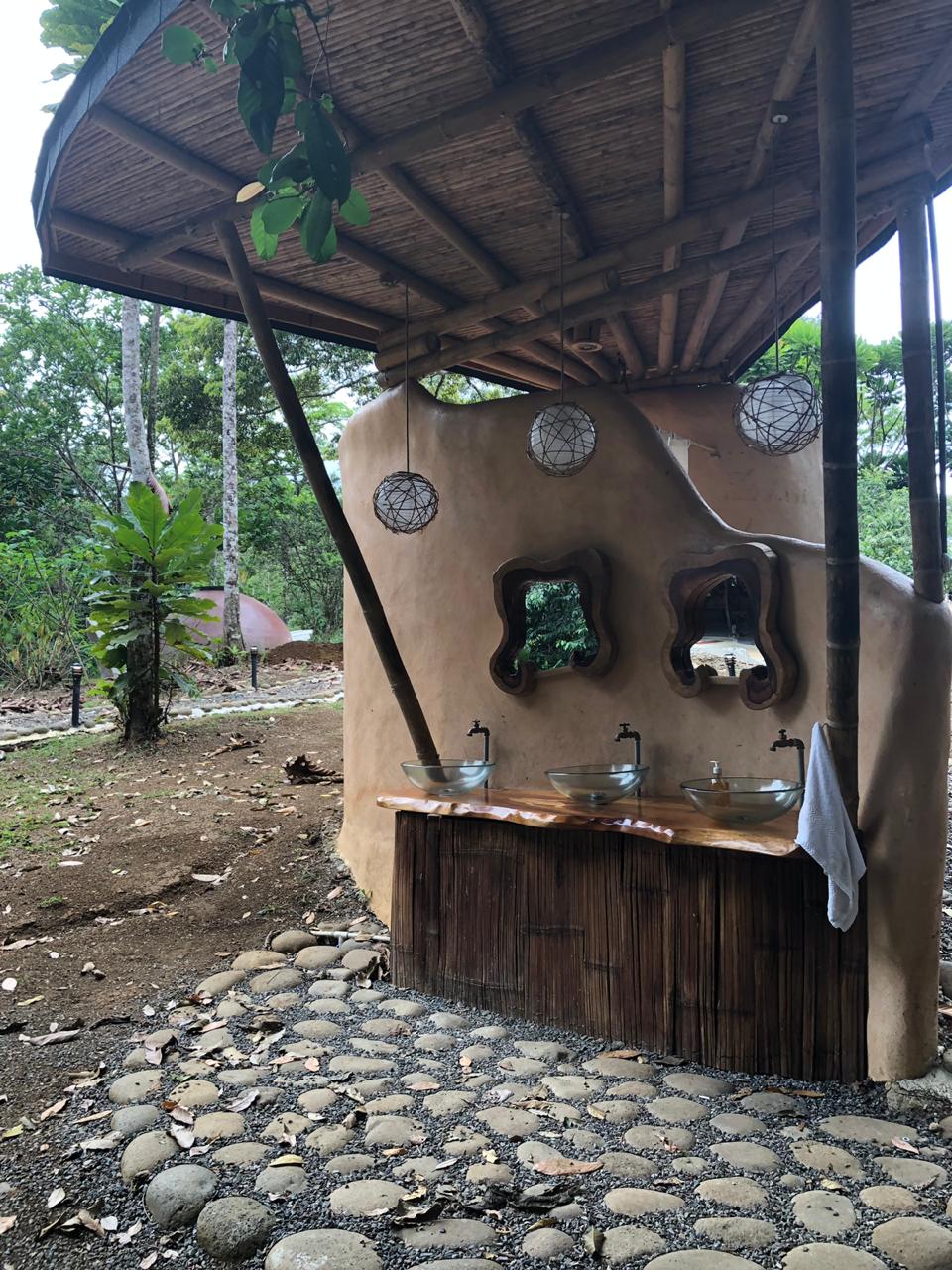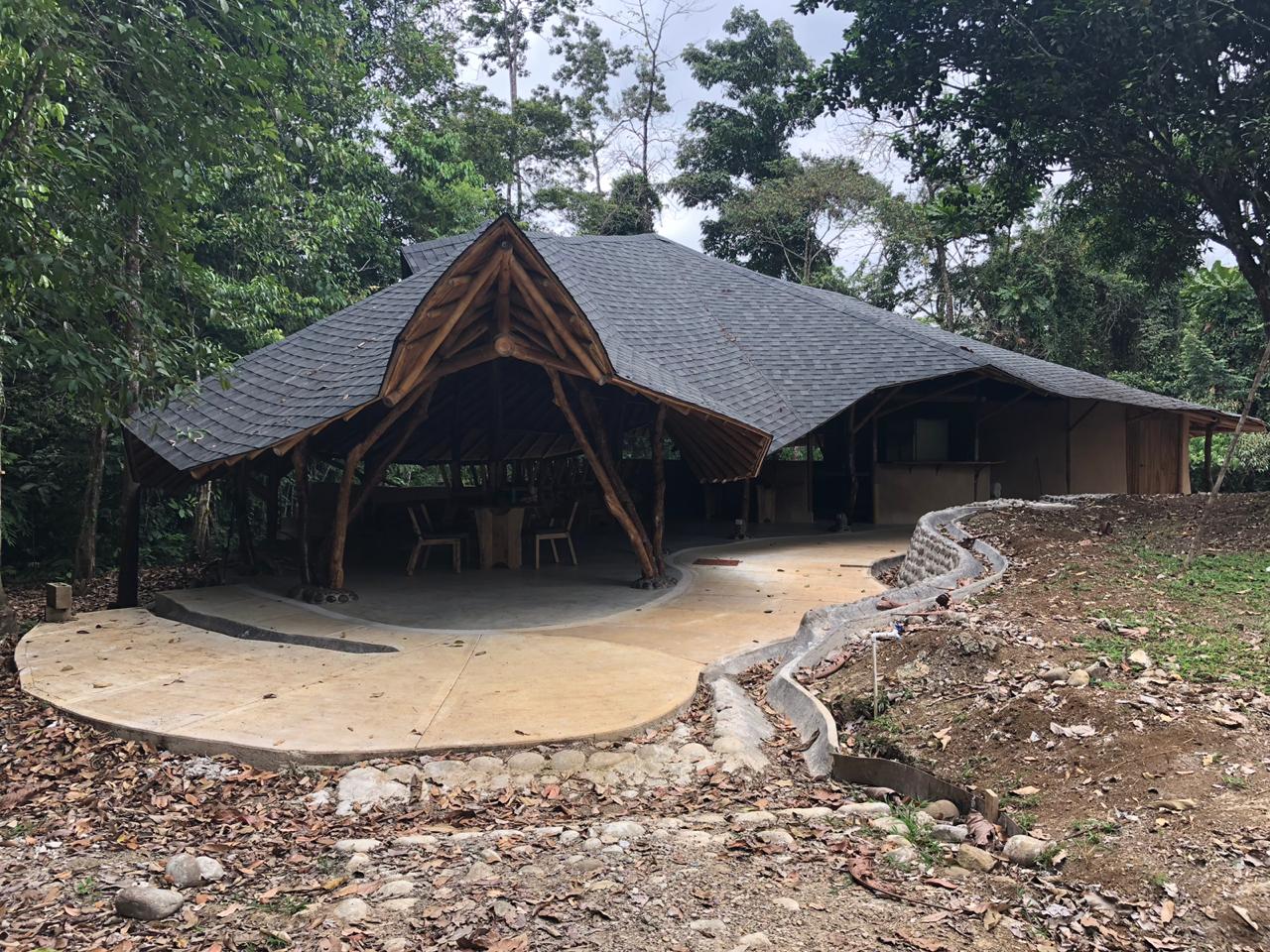 Education and Retreats
The Brave Earth community will rely on the Healing Arts Retreat Center to provide a steady source of income to community shareholders in the future. In the past year this has included air-crete dome construction workshops with Dome Gaia, visits from Costa Rican schools such as Veritas University, a workshop on biomimicry with The Biomimcry Institute and Bryony Schwan, and HER, a men's retreat organized by Alain Lagger.
As the community matures, and the site moves out of being a construction site, the retreat center will focus more and more on medicinal plant and healing work retreats. In the mean time we are leveraging the development of the site to offer a Permaculture Design Certification course.
Permaculture Design Course
In order to continue training the Brave Earth community to better engage their site and its full potential, Porvenir Design is hosting a Permaculture Design Certification Course in October 2019. The course will be hosted by Brave Earth but also take full advantage of the Finca Luna Nueva space and the new farm project, Tero Kuraga. This will be an excellent opportunity for students to see an emerging community, an established organic farm, and the early stages of a 20 hectare agroforestry project all within the framework of permaculture design.
Dates: October 17th- November 1st
Instructors: Scott Gallant, Sam Kenworthy, Melania Muñez Garcia, Hugo Sota, Robin North
Cost: $1000 (camping) to $2260 (private room)
For more information please visit the Porvenir Design website or write Brave Earth at hello@braveearth.com
Thank You
Nora Miklos for documenting the garden design process and doing the physical work of bringing the garden design to life. Nora is traveling Central and South America documenting her volunteer work and planting trees as she goes. She shares her work at EcoNorada and you can support her tree planting initiative here.
Laura Noel for creating the concept plan rendering. Laura is a freelance landscape designer and gardener based out of NYC and Akron, Ohio. Over the last 10 years her educational and work experiences have been dedicated to reimagining urban spaces to serve community health outcomes. Laura holds a Master of Landscape Architecture and a Bachelor of Urban Planning from the University of Cincinnati. Her current research interests include finding ways to creatively bridge the gap between public policy and landscape architecture to create vibrant public spaces.